She is a GIRL!!!
After 38 weeks of pregnancy, finally the baby has come up to see the world. So small comparing to adult... for sure. She is only 47 cm, 2.845 kgs and very pinky.
We named her RAISHA ALINADIFA. Raisha is adapted from Arabic word rais, means the leader. While Alinadifa is a combine word from aline (Scotish, means honest) and adifa (Arabic, means pleasant, gentle). She will use family name Saifudin as her father.
Right now she is a week old. She can cry loudly when she is thirsty but at all she is really a nice and sweet baby girl.
We thank all of our friends who are very kind and full of attention during the delivery of Raisha. Hope she will be a good girl, sholihah, and always bring happiness to the world.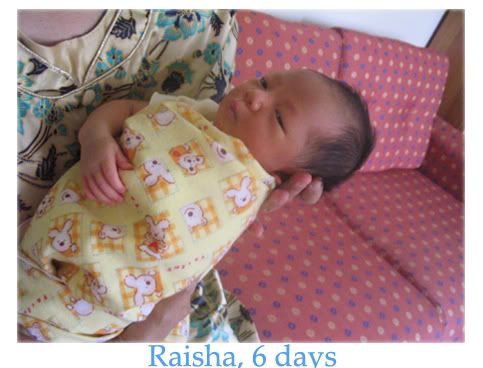 As Gandhul said... hoping a better human world with this beautiful moment